Telegraph Cove (population 20) is located 30 minutes south of Port McNeill, BC, Canada.

It is the launching point for many killer whales/orcas-watching trips.

During Summer, up to 40 pods pass by uninhabited Hanson Island (near Vancouver Island).
They follow Salmon. They like to rub themselves on the barnacles that live on the pebbles.

You can hear them.
Each Summer. Live, while they follow a Voodoo mermaid.

They first show up on the holo screen wall of the rebuilt Blunt Brothers; Glen is about to pocket Father Fontaine's passport.
He's watched the news flash.
He's seen Lundquist and his SWAT team destroy Skid Row…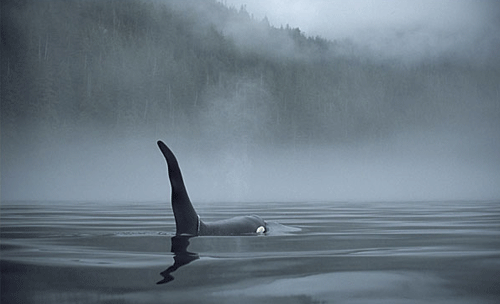 You can hear the whales again when Benedict and her father travel through time to help heal Marika from her childhood abuse and in the closing act, when the Fonds Des Negres survivors get evacuated.
Men Without Shadow is my graduation assignment for the Vancouver Film School's Writing for Film, TV & Interactive Media program (Intake 1, 1999).

So far, it has gone through 5 drafts and 28 readers

It is built upon the Osho Zen and New Orleans Voodoo tarot decks.

It offers the Web as a healing technology.
Men Without Shadow. A Voodoo Zen story.
Dedicated to a nation, a race, and a pod of orcas.
OceanFootage.com has the best footage. And they are not cheap. Help me obtain one of these clips to place onthis page. Sugested donation: $20Cdn. Thanks