I did the Sterling Men's Weekend in April 1994, Birch Bay, WA, USA.
Purpose of the Sterling Men's Weekend:

To engage in the process of locating the source of your power and discovering and dissolving the barriers between you and manifesting that power so that you experience total freedom as only a man can and with that freedom be the man you always wanted to be.
My sponsor was Claude Philoctete.
I did my Sterling Men's Weekend in April 1994 in Birch Bay.
My very first point team was the Gargoyles.
Our division was the Eagles.
I had comrades to help me awaken.
I was a grunt on many Strikes and Production teams.
I even won a toaster.
I left Sterling after 4 (?) years and played Lone Ranger for another 3 years.
Then after reconnecting with Denis Lamonde, I joined his team, Marpole, which later on changed to The Stumps.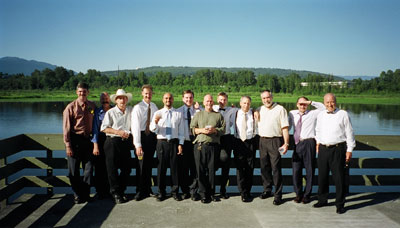 I was till playing Lone Ranger. That's why I'm not in the picture.

Robinson was getting married summer 2004:

Ron Tremblay - Settimo Szliske - Rod Douglas - Fred Barrett - Sharrif Farriborz - Dan Bechard - Denis Lemonde - Tony Dean - Warren Walker - Lionel Webb - Steve Pellman - John Lunam.

Missing from the picture: Tom Robinson - Dean Paul - Simon Kras - Brian Maine - Claude-Michel Prévost
The Stumps is a New Frontiers team.
Mission of the New Frontiers Teams:
We work to improve the quality, performance, and experiences of our species through powerful events and trainings that aid life's passages of men, women, and children.
Sterling, New Frontiers, we've worked together on many Young Men's Adventure Weekends.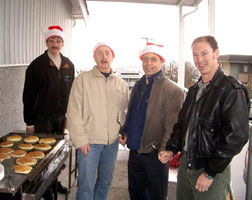 We've gone to many Rhinos, or men's gatherings. Check Brad Leslie for more info.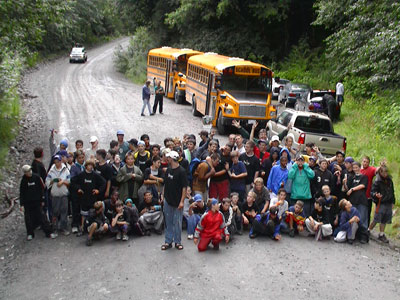 We've done our own men's Initiations: : LDWs, or Legacy Discovery Weekends.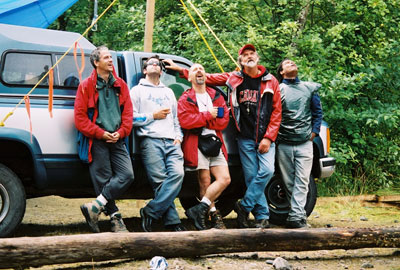 This work is based on the mature and immature masculine archetypes.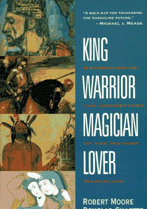 I was shaman for 5 Legacy Discovery Weekends in Vancouver, Victoria, Calgary and New York.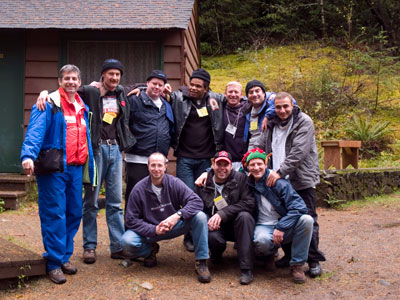 I was in my seat for my 6th one: both shamans Schull from Victoria and Rotterman from Calgary did a beautiful job.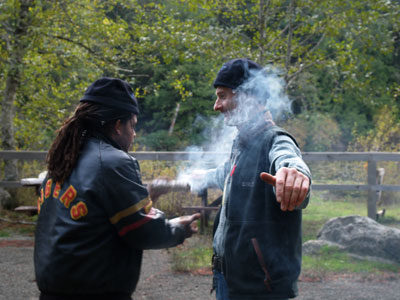 I left Marpole/The Stumps in 2006.
Two reasons: a) my men were getting too close under my skin and ready to call me on my bullshits. And b) I was learning more and more stuff outside of the division.
Now that I'm in Nelson, I'm slowly meeting and testing and trusting local men.
My vision is to be in a men's team by the end of 2008 where I can merge Sterling, MDI and RC.
Which men's group are you involved with?